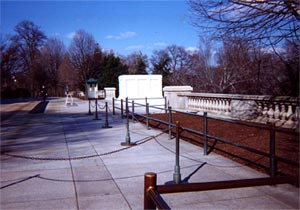 On March 4, 1921, the 66th Congress approved Public Resolution 67
to honor an unknown American killed in war. Although the measure to approve the Tomb was introduced by Congressman Hamilton Fish, Jr.
of New York, credit for the idea belongs to France and England, who were the first nations to bestow such honors on unknown casualties.

The idea reached America via Brigadier General William D. Connor.
Gen. Connor was the commanding general of American forces in
France and learned of the French project as it was being planned.

The area in front of the Memorial Amphitheatre is now the final resting place of three unknown soldiers. The unknown from WWI was buried
on the 11th of November 1921. His tomb was initially a sub base and
a base, slightly smaller than the present base.

He was selected at random out of 4 bodies exhumed from each of the four American cemeteries in France - Aisne-Maine, Meuse-Argonne, Somme, and St. Mihiel. The unknown soldiers of WWII and the Korean War were both buried on May 30, 1958. The WWII soldier was chosen
at random from two unidentified bodies - one from Europe and one from the Pacific.

The soldier from the Korean War was chosen at random from the National Cemetery of the Pacific in Hawaii. The unknown soldier from Vietnam was exhumed from his crypt at Arlington in 1998 to undergo DNA testing. Scientist discovered the identity of the soldier to be AF
1st Lt. Michael Joseph Blassie.

Lt. Blassie now lies buried at his family's plot and it has been decided that the Vietnam crypt will remain empty. Each body was thoroughly examined before buried to ensure that the person had been a member
of the American military, had died of wounds received in combat, and that there were no clues to his identity whatsoever. Each soldier received the Medal of Honor.

Congress authorized the completion of the tomb and the building of the superstructure on July 3, 1926. Seventy-four designs were submitted and reviewed by the Arlington Cemetery Commission, American Battle Monuments Commission, the Fine Arts Commission, and a small jury
of other professionals. The winning design belonged to Mr. Thomas Hudson Jones, sculptor, and Lorimer Rich, architect, of New York City.

The material of the superstructure is Yule marble, a nearly pure calcite marble with minor inclusions of mica, quartz, and feldspar. There are irregularly shaped calcite grains ranging from 100 to 600 micrometers
in diameter.

The marble was quarried near the town of Marble in Gunnison County, Colorado and is the same material used in the Lincoln Memorial. The block quarried for the construction of the Tomb weighed 110 tons, and was the largest block of marble ever produced in the U.S.
The tomb consists of seven pieces of rectangular marble and is divided into four parts:
1. Sub-Base
4 pieces of marble
· 2 feet by 6 inches in height
· 15 tons
2. Base
1 piece of marble
· 14'11" in length, 8' in width, and 1'10" in height
· 16 tons
3. Die
1 piece of marble
· 12'3 ½" in length, 6'4" in width, and 5'5" in height
· 36 tons
4. Cap
1 piece of marble
· 12'7" in length, 6'8" in width, and 1'1 ¾" in height
· 12 tons
The east side of the tomb bears a relief of three figures: Victory, Peace, and Valor. The number three signifies the three Allied Powers of WWI. The north and south sides of the tomb are divided into three panels by Doric pilasters. In the center of each panel there is an inverted wreath. The six wreaths represent the six major battle campaigns of WWI:
| | |
| --- | --- |
| 1. Ardenne | 4. Meusse-Argonne |
| 2. Belleauwood | 5. Oisiu-Eiseu |
| 3. Chateau-Terrie | 6. Somme |
Inscribed in the west side (facing the amphitheatre) is the following:

HERE RESTS IN HONORED GLORY AN AMERICAN SOLDIER KNOWN BUT TO GOD

The author is unknown. The three crypts for the unknowns of WWII, Korea, and Vietnam each consist of a marble slab created from the same White Yule marble. Each slab weighs 3 tons measures 98 ¼" x 42" x 10". The dates of each conflict are inscribed in each accordingly:

1941 - 1945
1950 - 1953
1958 - 1975
The settling of the marble has created flaws. A natural crack has developed around the entire tomb, about 3 feet off the base, most likely from the weight of the 12-ton cap.

The Tomb is guarded 24 hours a day, 365 days a year by specially trained members of the 3rd United States Infantry, The Old Guard. More then 4 million people visit Arlington each year. Over 260,000 people are buried there, including soldiers, civilians, astronauts, former slaves, presidents, judges, and explorers.

Back to page one: Tomb of the Unknown Soldier

Top of Page